We've perfected the outdoor movie experience.
THEATER
AUDIO VISUAL
- 20-foot screen with HD projection and surround sound.

SEATING
- single & double zero gravity recliners, love seat cabanas, deck chair/ottoman with table.
WEATHERPROOF
- retractable covering, blankets, space heaters, all the amenities to keep you warm, cozy and dry.
THEATER PHOTOS
Take a
peek inside
the theater.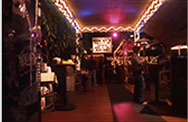 CONCESSIONS
Coffee, tea, soda, bottled water, popcorn and a variety of candies are available from our concessions stand. Outside food and drinks are not allowed in the theater.
MOVIES
WINTER/SPRING CINEMA
- current movie favorites, February 7 to April 26
CLASSIC CINEMA
- classic and cult favorites, May 1 to November 16
Prior to each screening there is a brief film introduction by Ralph DeLauro, Program Director.
SHOWTIME
WINTER/SPRING -Feb. 7 to April 26
Friday and Saturday
Film begins at 8pm
SPRING
- May 1 to May 17
Thursday through Saturday
Film begins at 8pm
SUMMER
- May 22 to August 28
Thursday through Sunday
Film begins at 8:30pm
FALL
- Sept. 4 to Nov. 22
Thursday through Saturday
Film begins at 8pm
BOX OFFICE
ADMISSION
- cash or check
General - $15.00
Members - $14.00
HOURS
- doors open at 6pm on Thursday, Friday, Saturday and summer Sundays.
RESERVING SEATS
AT THEATER
- seats can be reserved at the box office on Thursdays at 6pm for all movies showing that weekend.
ONLINE
each week reservations open on Monday 9am for members and on Thursday 9am for non-members.
A credit card holds your seat. There is a $2.00 fee per seat reserved online.
Online reservations close at 5pm on day of screening.
MEMBERSHIP
ADVANTAGES
• first choice of theater seats
• phone reservation privileges
• no online reservation fees
• discounted admission
BECOME A MEMBER
THEATER UPDATES
SIGN UP
to receive weekly updates on upcoming films, events, and special promotions.
IN THE NEWS
Throughout the years Cinema Under the Stars has been featured on the local news, in newspapers and web.